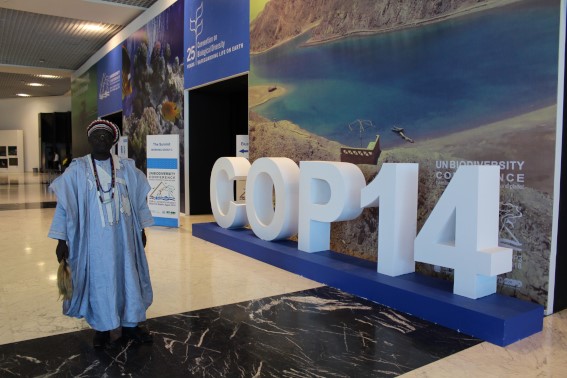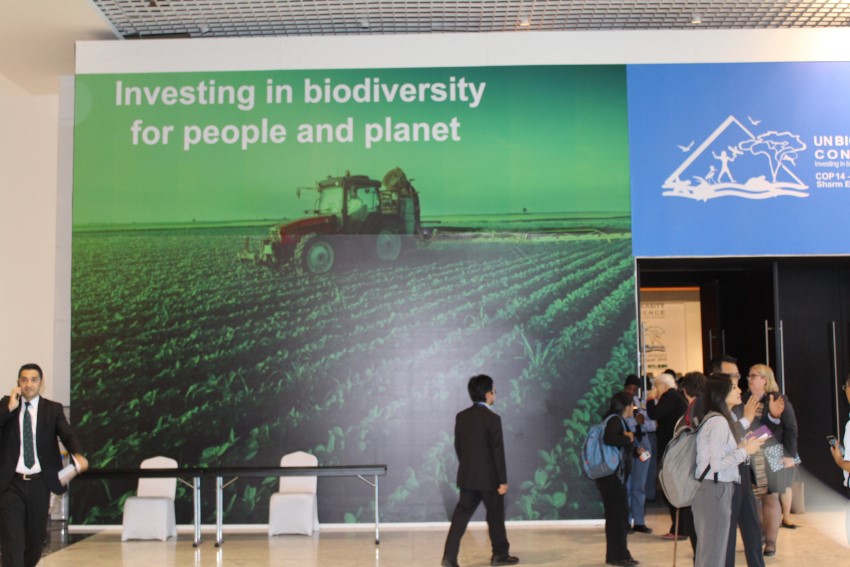 A view of the sign of the conference in Sharm El Sheikh. @greenconnexion. November 17th, 2018.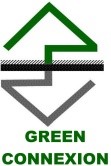 Green Connexion was honored this year by being invited to participate in COP 14 (Fourteenth Conference of the Parties to the United Nations' Convention on Biological Diversity (CBD)), held in Sharm El Sheikh, Egypt. 17 – 29 November 2018. The theme of COP 14 is "Investing in Biodiversity for People and the Planet". By putting people in the center and even in front of the planet, this theme draws attention to the primordial role of the human being in the preservation of his unique space, the planet earth. The earth is indeed our host and our nanny. Although it may have several characteristics (agriculture and small-scale hunting, collection and marketing of products derived from biodiversity, definition of exploitation policies, etc.), investing in biodiversity always has an economic and conservation character. So we do it for ourselves and for the planet that hosts us.
To sit as an observer  
Green Connection sits as Observer. If it cannot participate in the decisions (to take part in the votes), it can attend the meetings, participate in debates and, in this chapter, its long experience in the field biodiversity conservation counts. By inviting Green Connexion and many other Non Governmental Organizations (NGOs) around the world, the United Nations is leveraging all its credibility resources to add value to the global event that is COP 14.
A universal summit
Apart from the objective of developing and maintaining the Convention on Biological Diversity, the approximately 2500 participants at COP 14 come from all over the world. They are represented by the parties (196 to date), observers, NGOs, researchers, industrialists etc. Through the clothing port at the opening, one can witness the impressive diversity that constitutes the world culture in its totality. Another great diversity is expressed through the multitude of parallel events organized and the great variability of individual interests or distinct groups.
Green Connexion and the 25 years of the CBD
Green Connexion is a relatively young organization. It's created in the years 2011 only. However, to date, it has made its way in the field of conservation. It has already to its credit most of what is known about the conservation of freshwater aquatic plants in Central Africa. As such, it has demonstrated this year the 25th anniversary of the Convention on Biological Diversity with the splendor justified by this enthusiasm that is generally found among the youngest. And the organization is coming to Sharm El Sheikh with a lot of confidence.
Some photos
By J.-P. Ghogue, Green Connexion, from Sharm El Sheikh, novembre 19, 2018.